Today is Day #1 on our mission to Spread the Love! Kellyn said one way to show that we love someone is to write them a letter! So, this morning, we did just that.
First

, I wrote down what she wanted to say.
Then Kellyn copied the let

ter into a little card.
What have YOU done lately to show someone you love them?
Have you heard?? I'm hosting my very own linky party! This is my first one, so help a

sister

out and link-up. :)
Link-up your posts about ways you spread your love! That's right--I would love to hear about random acts of kindness, examples of love--even date night ideas, Valentine's Day projects, and

Valentine's Dayish desserts

!
Remember, t

his is my very first linky party

--don't let it be a dud!
Rules
--Follow My Life, as Mommy & Wife (only if you want to!)
--Grab the Spread the Love badge (if you'd like

!)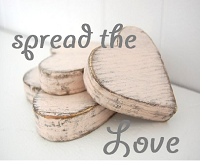 --Link-Up your individual posts (old or new!), NOT just your blog URL
--Check out some of the links listed before yours!
--This linky will be open until 11:59pm on February 14th, so share as many times as you'd like until then!
Have fun getting some new, creative ideas while discovering some new blogs!
So in everything, do to others what you would have them do to you